Whenever you view a document that's longer than will fit onscreen, a scroll bar appears (often only if you're actively scrolling). That's true whether you're using an iPhone, iPad, or Mac. Inside the scroll bar is a control called a scroller that you can drag to scroll more quickly than by swiping or using keyboard keys. But did you know its size and position are useful for orienting yourself within the page? First, the scroller position within the scroll bar reflects how far down the page you are. Second, the size of the scroller indicates what percentage of the page appears onscreen. When you see a large scroller, most of the page is showing. With a small scroller, what you see is only a portion of a longer page. Combine the size and position of the scroller, and you can tell at a glance where in a page you are, and how much is left to read.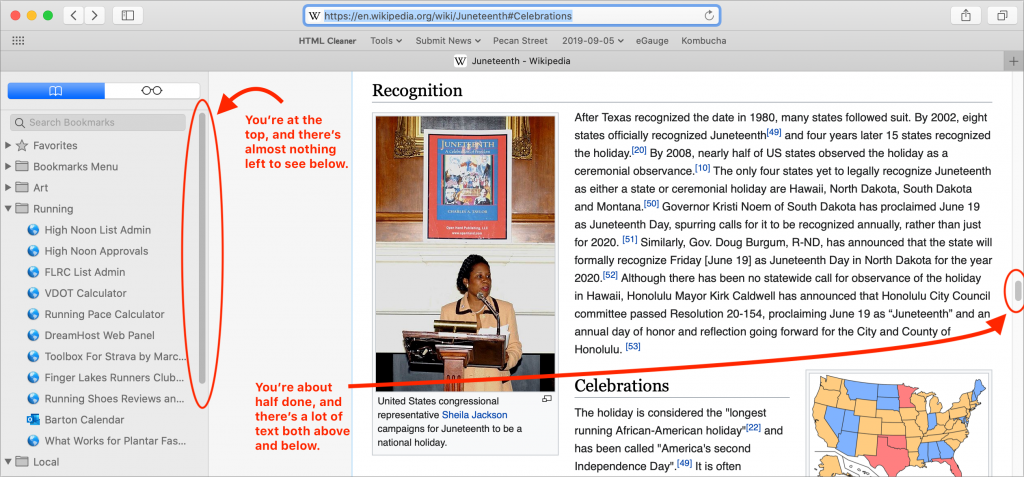 (Featured image by Taylor Wilcox on Unsplash)
https://maclifeboise.com/wp-content/uploads/2020/07/do-you-know-what-the-scroller-in-a-scroll-bar-tells-you.jpg
800
1280
MLWPadminNEW2
https://maclifeboise.com/wp-content/uploads/2015/12/MacLife-Logo-Finals-copy-3-300x187.png
MLWPadminNEW2
2020-07-01 12:08:44
2020-07-03 10:02:03
Do You Know What the Scroller in a Scroll Bar Tells You?